Description
Features
One stop for all ScanSnap productivity
With ScanSnap Home, repetitive tasks such as sorting, saving, organizing and connecting scanned data with other applications are made as comfortable as possible. The more you use ScanSnap Home, the more it understands your preferences, and the better assistant it will be.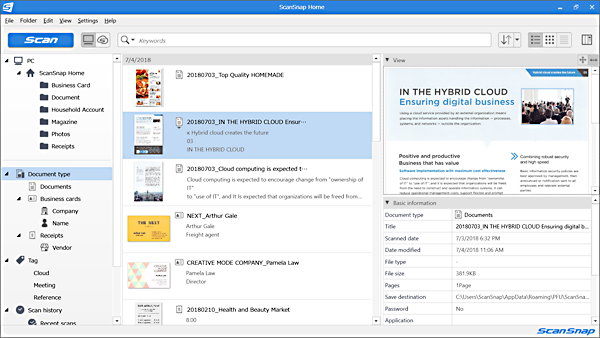 Scan large volumes with ease
You can scan large volumes of various types of documents from color photos to double-sided landscape documents with a host of intelligent automatic image processing functions, such as Automatic Color Detection, Automatic Size Detection, Automatic Rotation, De-skew and Blank Page Removal. Together, these features enable you to scan confidently without adjusting settings.
In addition, using the correction features specialized for photos, you can scan photos more productively.
*Please refer to the Specifications tab for compatible scanners.

Spend less time on naming files
ScanSnap Home uses the text, such as shop and company names, found on your scanned documents to recommend file names. Not only does accuracy of information extraction increase the more you scan, but edits made to file names are learned for later naming suggestions.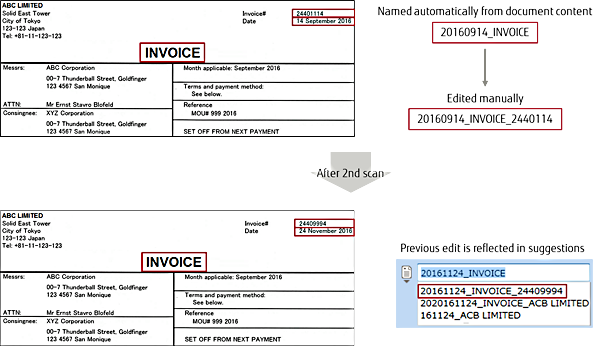 Spend less time on correcting files
Corrections made to company names attributed to scanned business cards, for instance, are reflected on successive scans with the same attributed company, allowing you to bypass the hassle of repetitive post-scan operations.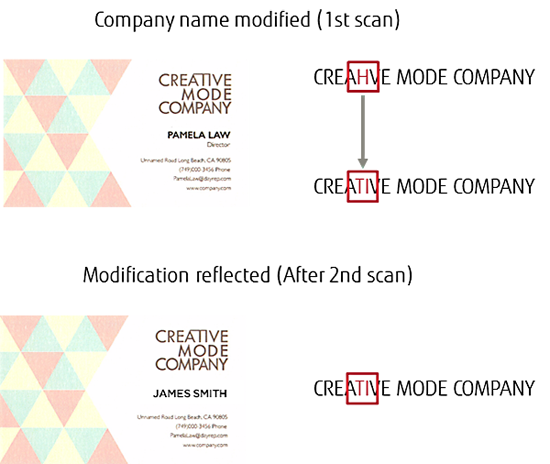 Spend less time on finding files
Scanned data is automatically recognized and grouped into four categories: documents, receipts, business cards and photos. No need to be concerned about spending time on sorting data by yourself.
The software helps you quickly search through large volumes of data with keyword search. Recognition of information in both PDF and JPEG formats as well as creation of folders and tags enables you to find information you need easier than before.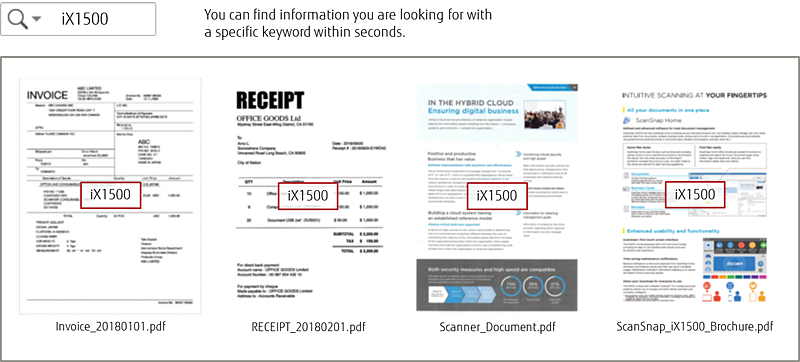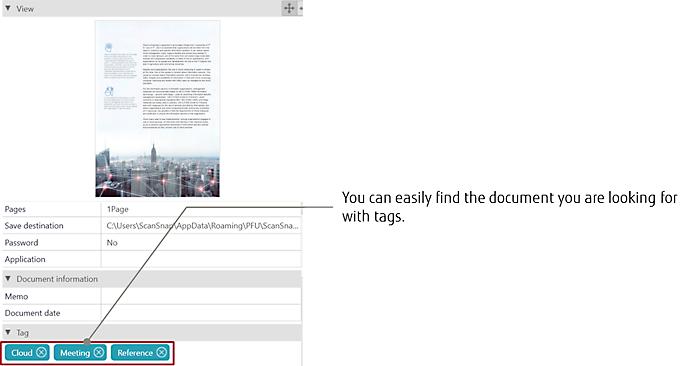 Optimized workflow for your usage with profile icons
Since you can create a profile of frequently used preferences on the ScanSnap Home, scanning process can be done just by choosing a profile and clicking "Scan" button.
The ability to rotate and edit scanned images prior to sending to "ScanSnap to Folder", "ScanSnap to Email", "ScanSnap to Print", further enhances efficiency.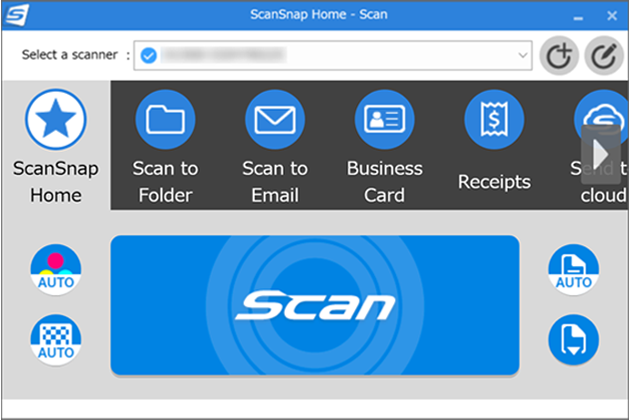 In addition, with "Quick Menu" profile, you can choose destination and operation after scanning.
The ScanSnap Home provides optimized scanning workflow depending on your preferences.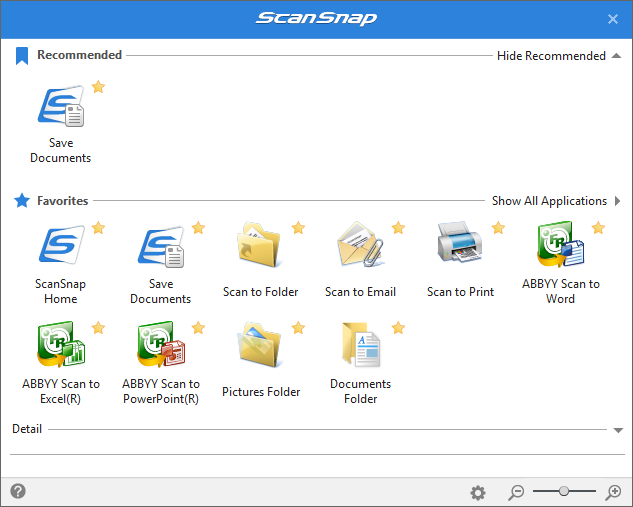 Mix and match your devices and scanners
Use your ScanSnap scanners on up to 5 devices by creating your own ScanSnap account*1, 2. Whether you are in the office or at home, you can choose your most suitable device for the situation, all using ScanSnap Home. Manage data scanned using the iX1500 with your desktop in the office as well as the iX100 with your laptop at home, for instance, all on ScanSnap Home.
Specifications
Product Name
ScanSnap Home
Supported Scanners
Current
iX1600*1, iX1400*1, iX1500*1, iX1300*1, S1300i, iX100*1, S1100i, SV600
Discontinued*2
iX500
Operating System
Windows
Windows® 11, Windows® 10, Windows® 8.1, Windows® 7
macOS
macOS Monterey 12, macOS Big Sur 11, macOS High Sierra 10.13 or later
Photo correction features are supported on the iX1600, iX1500, iX1400, iX1300, and iX100. Application on other models may not derive desired correction outcomes. Red eye correction and automatic rotation are available with Windows 8.1 or later, and macOS.

Discontinued products cannot be repaired.
| | Supported Languages |
| --- | --- |
| Document | English, German, French, Italian, Spanish, Portuguese, Russian, Simplified Chinese, Traditional Chinese, Korean, Japanese, Swedish, Norwegian, Finnish, Turkish, Dutch, Danish, Greek, Hungarian, Polish, Czech, Romanian, Arabic, Vietnamese, Thai, Indonesian |
| Business Card | English, German, French, Italian, Spanish, Portuguese, Russian, Simplified Chinese, Traditional Chinese, Korean, Japanese |
Supported Languages for Receipt
Country
Language
Currency
USA
English
USD
Canada
English
CAD
French
UK
English
GBP
Germany
German
EUR
France
French
Italy
Italian
Spain
Spanish
Brazil
Portuguese
BRL
Russia
Russian
RUB
Australia
English
AUD
China
Simplified Chinese
CNY
Taiwan
Traditional Chinese
TWD
South Korea
Korean
KRW
Singapore
English
SGD
Japan
Japanese
JPY