Description

Overview

Features

Specifications

Videos
Overview
High-quality scanning software with Fujitsu's high performing fi Series scanners
With its single button scanning and release options, PaperStream Capture makes entire image capturing workflow from scanning to releasing easier and faster than ever before. Offering powerful image capture optimization as well as data extraction and organization capabilities, it possesses an intuitive interface with its simple yet enriched scanning processes.
Selectable batch icons
Various document separations
Stress-free operation and ease of use
Advanced image processing functions with PaperStream IP driver
Features
Improve work efficiency through automated batch scanning processes
PaperStream Capture is simple and easy to use. Users can configure scanning profiles or templates with an intuitive wizard, and start scanning with just a single click of an icon. It visually displays files as thumbnails, organize thumbnails according to scanning batches, and switches real-time, between display settings.
Customizable and predefined profiles
Predefined templates and extraction options reduce time spent on administrative operations. Administrators can also lock profiles to perform consistent scanning.
Multiple scanning options
Users are able to scan in accordance to personal preferences without hassle. Simple batch scanning is possible with default settings and predefined templates while quick non-profile scanning can be done with Simple Scan. Users are able to perform one-off scans with Ad Hoc Scan as well and this allows users to perform quick scans with temporary changes in existing profiles.
Boosted productivity with efficient functions
Documents can be separated according to blank pages, page numbers, patch codes, Zonal OCR, and barcodes. Assignment of shortcut keys for manual separation during scans is possible for complete control of sorting processes. While such sorting includes any combination of multi-index value or barcode and Zonal OCR, data from such sources can be extracted for data retention and future use.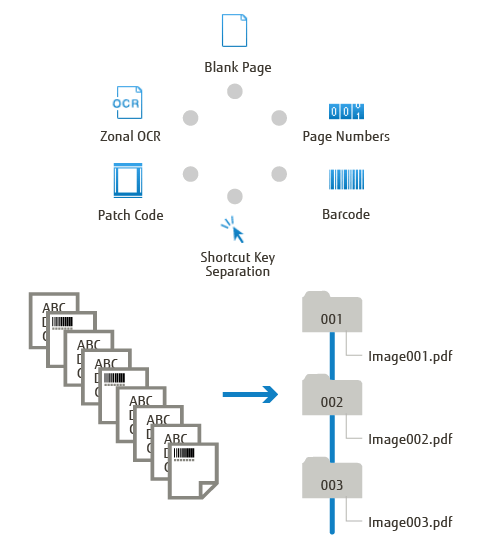 Automatic image quality check
Prevents overlook of scanning errors with Automatic Image Quality Check. Instantly recognize any multi-feed and error with easily recognizable color marking: multi-feeds boxed in red, blank documents in black, and missing edges in yellow.
Image enhancement
Instantly selects the best image without the need for any fine setting adjustments. Makes automatic image enhancements and replace unsatisfactory scans with the best scans with Assisted Scan.