Description

Overview

Features

Specifications

Videos
Overview
Simple and powerful front-end capture software
PaperStream Capture Pro helps organizations ranging from small and medium-sized businesses (SMBs) to large enterprises to reduce costs and increase business efficiency, and offers PaperStream IP, which is a cost-effective improvement tool for optimized image capture. This solution enables organizations to effortlessly digitalize their papers for more efficient and effective archiving.
Multi station mode
Equipped with Batch separation and 2D Barcode as standard
Stress-free operation and ease of use
Advanced image processing functions with PaperStream IP driver
Import function for image data scanned by devices other than scanner
Features
Optimize productivity and work efficiency
Scan, check, index, confirm, and release alone, or with multiple users by introducing the multi-station mode*. The entire digitization process is simple and facilitates task sharing, promoting the sharing of responsibilities and the reduce individual workload. Team managers can keep track of overall progress with ease using batch manager. Utilize operation data keeping track of information, such as hours spent on each process, to improve general work efficiency.
*To develop a multi-station structure, you need to set up two computers or more in all, a computer for a PaperStream Capture Pro Scan Station and at least one computer for a Scan Station or a QC/Index Station.
Perfect fit for crucial business operations
The PaperStream Capture Pro supports a variety of sorting functions, up to 100 direct input values such as barcodes (including two dimensional codes) and OCR results. Accurate data input is enabled by providing each field with check functions of input values or a range of numbers.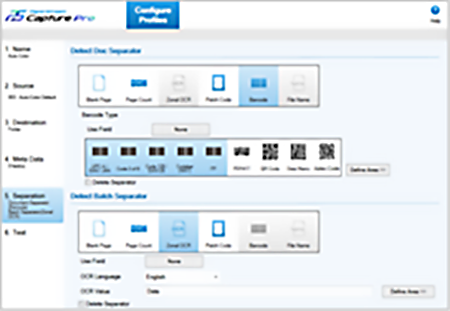 The PaperStream Capture Pro now features improved and enhanced capabilities that are compatible your organization's backend operations after the capturing process. Users are able to integrate the software with remote folders, SharePoint, Box, and other third-party services, or develop your own integration features in order to facilitate the use of scanned images for various operations.

Advanced image processing functions of the PaperStream IP dedicated driver
By integrating the dedicated driver for the fi Series image scanners for professional use, PaperStream IP, a variety of functions becomes available.
After Scan Correction (ASC)
This function is to realize high quality image correction without the need for rescanning. PaperStream IP's functions remove the need to manage original documents for QC use and it allows easy output of optimized image data and reduce workload for operators.

Importing image data
You can use the advanced image processing functions of PaperStream IP for imported image files* that are generated by devices other than scanners.
*For importing, an additional paid license is required.